Aloha Magnum : Larry Manetti's Magnum, P.I. Memories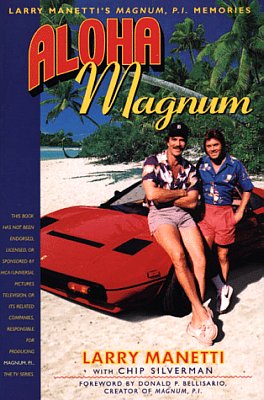 Aloha Magnum is available from

Paperback - 272 pages (January 1999)
Renaissance Books; ISBN: 1580630529;
Dimensions (in inches): 0.78 x 9.03 x 6.00
"Magnum, P.I". co-star Larry Manetti reveals what really went on behind the scenes of the hit show, his friendship and working relationship with the notoriously press-shy Tom Selleck, and encounters with such celebrities as Kenny Rogers, Ringo Starr, and Robert Urich. 25 photos.
Larry Manetti about his book (November 16, 1998):
Hold on, baby, for one fast and breathless read!
To the millions of "Magnum, P.I." fans around the world, you're going to love my new book called "Aloha Magnum." I wrote it so that you can finally know what really went on behind the scenes of the greatest one-hour TV action drama of the past twenty years. What you will read in "Aloha Magnum" are some of my most treasured memories. And there are a gang of them! My days on Magnum can never be repeated. But my sharing them with you keeps them alive. This is one book that you will not want to put down. What was Tom Selleck really like? How wild was it during our eight years filming in the paradise of Hawaii? Escapades, anecdotes, and even tender stories fill this chronicle of my "Magnum, P.I." days. Many of the biggest names in Hollywood guest-starred, including Sharon Stone, Frank Sinatra, Ted Danson, and Carol Burnett. I've also included snippets of my early Hollywood years, which involved encounters with Elvis Presley (who is hidden in my house), Connie Stevens, John Larroquette, Robert Conrad, and Michelle Pfeiffer. Additionally, I've written a complete episode guide to all 162 "Magnum, P.I." shows, which includes my personal anecdotes and memories; my trademark recipes I've prepared for Tom Selleck, Frank Sinatra, Robert Wagner, Frankie Avalon, and others; and finally some great candid photographs from the TV series and my life in Hollywood.
Back to the top
The Magnum Cast // Tom Selleck // Pictures // Theme Song // Links
Last updated: 07/13/02